Cosmo Kaken Co., Ltd, is located in a rural environment, which changes appearance along with the changing of the seasons, and is surrounded by a large number of historically and culturally interesting tourist spots, as well as leisure and sports facilities.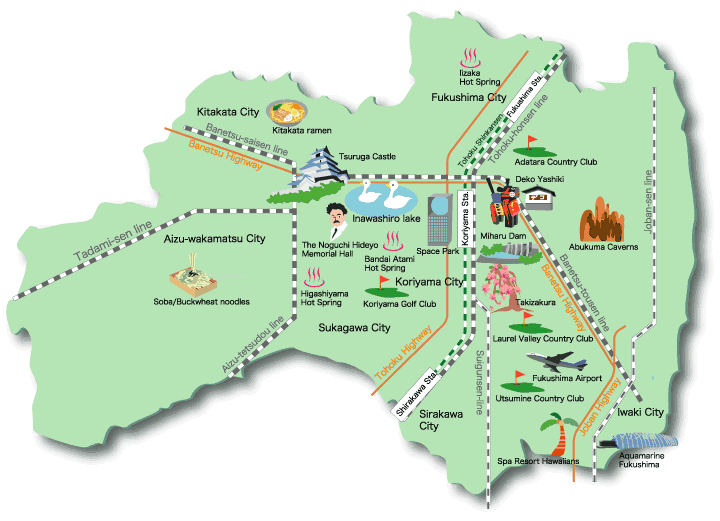 Takizakura ( Waterfall Cherry Tree ) in Miharu
Miharu Dam ( Miharu )
Abukuma Caverns ( Takine )
The Takizakura, more than 1,000 years old, has been designated as a Natural National Treasure. When the tree is in full bloom, the flowers flow down in a beautiful waterfall of petals.
Located among the natural splendour of the Abukuma hills, and surrounded in all directions by beautiful scenery, its area is 62 times that of the Tokyo Dome.
The natural beauty of the Abukuma Caverns was created over a period of approximately 80 million years. Visitors are entranced by its mysterious interior.


The Noguchi Hideyo Memorial Hall ( Inawashiro )
Tsuruga Castle ( Aizu Wakamatsu )
Deko Yashiki ( Koriyama )
Dr. Noguchi Hideyo is celebrated for his research into yellow fever and syphilis. Visitors can learn about his background and look around the house where he grew up.
Controlled / Occupied by different warring lords, it played an important role in the Boshin War at the end of the Tokugawa shogunate. The park around the castle, with its stone walls and cherry trees, is much loved by the people of the city.
Deko Yashiki has been a center of handicrafts since the Edo era. The craftsmen there still continue to make the colourful Miharu dolls, Miharu horses and Miharu daruma (Bodhidharma effigy).


Space Park ( Koriyama )
Aquamarine Fukushima ( Iwaki )
Spa Resort Hawaiians ( Iwaki )
The science hall inside the high-rise Big Eye in front of Koriyama Station. Attractions include a machine simulating an astronaut's training and the " Moon Jump " which provides an opportunity to experience the sensations of the moon's surface.
This aquarium is themed upon the confluence of two tides in the Pacific Ocean off the coast of Fukushima. Passing through the triangular tunnel inside the tank representing the confluence of tides will give the visitor the sensation of diving under the ocean's surface.
A hot spring theme resort which allows the visitor to savour the year-long summer paradise of Hawaii without leaving Japan. Attractions not to be missed include all weather pools, Japan's largest outside hot spring, and daily shows.


Bandai Atami Hot Spring Yurax Atami ( Koriyama )
Iizaka Hot Spring ( Fukushima )
Higashiyama Hot Spring ( Aizu Wakamatsu )
Koriyama Yurax Atami is a multi-purpose establishment with a hot spring, including facilities for conventions and sport. When work and play is over, relax in a hot bath.
An historical hot spring which long ago was visited by Matsuo Basho on his famous journey along the roads less traveled. The visitor can enjoy a total of 9 communal baths, without having to stay at a hotel.
Conveniently located just 10 minutes by car from the center of Aizu Wakamatsu, this spa resort was much loved by artists such as Takehisa Yumeji and Yosano Akiko.

---

The Tastes of Fukushima
Kitakata ramen/Chinese-style noodles in a hot soup ( Kitakata )
Soba/Buckwheat noodles ( Yamato and Aizu Wakamatsu )
Fresh seafood ( Iwaki and Soma )
Fruit…peaches, pears, apples, persimmons
Vegetables… leeks, radishes, tomatoes, cucumbers

Hot Springs in Fukushima
Bandai Atami Hot Spring ( Koriyama )
Iizaka Hot Spring and Tsuchiyu Hot Spring ( Fukushima )
Dake Hot Spring ( Nihonmatsu )
Higashiyama Hot Spring and Ashinomaki Hot Spring ( Aizu Wakamatsu )
Iwaki Yumoto Hot Spring ( Iwaki )

Golf Courses in Fukushima
Adatara Country Club ( Nihonmatsu )
Utsumine Country Club ( Sukagawa )
Laurel Valley Country Club ( Sukagawa )
Koriyama Golf Club ( Koriyama )